the suffering of Turkish women , crimes against humanity and International prosecution mechanism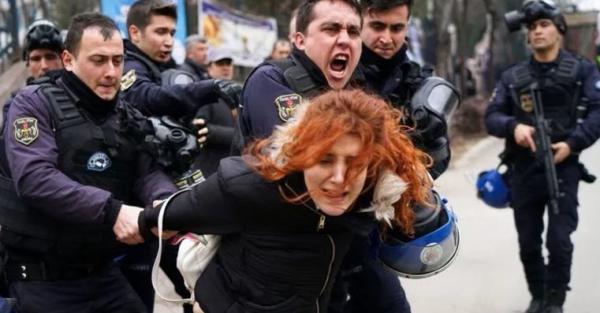 Human rights in Turkey - Friday 20 September 2019 / 12:00 - 13:00 - Geneva- United Nations Palace. Room : XXIII .
the International Alliance is organizing a symposium on human rights in Turkey at the United Nations Palace on the sidelines of 42nd session. The symposium will discuss the suffering of the Turkish women, violations, crimes against humanity and International prosecution mechanism against the perpetrators in order to ensure the achievements of justice. Turkey is witnessing a frightening retreat of the rights and freedoms of women, activists and the civil society after the failed military coup in the mid of 2016 through which the Turkish authorities tightened their iron fist violently against all human rights activists, Journalists, lawyers, parliamentarians, Members of municipalities as well as against all the opponents, many of them were subjected to torture , enforced disappearances , cruelty and degrading treatment .. AIDL has already organized a seminar on the sidelines of 41st session of human rights council under the title of " prisons , torture crimes and human rights violations in Turkey " .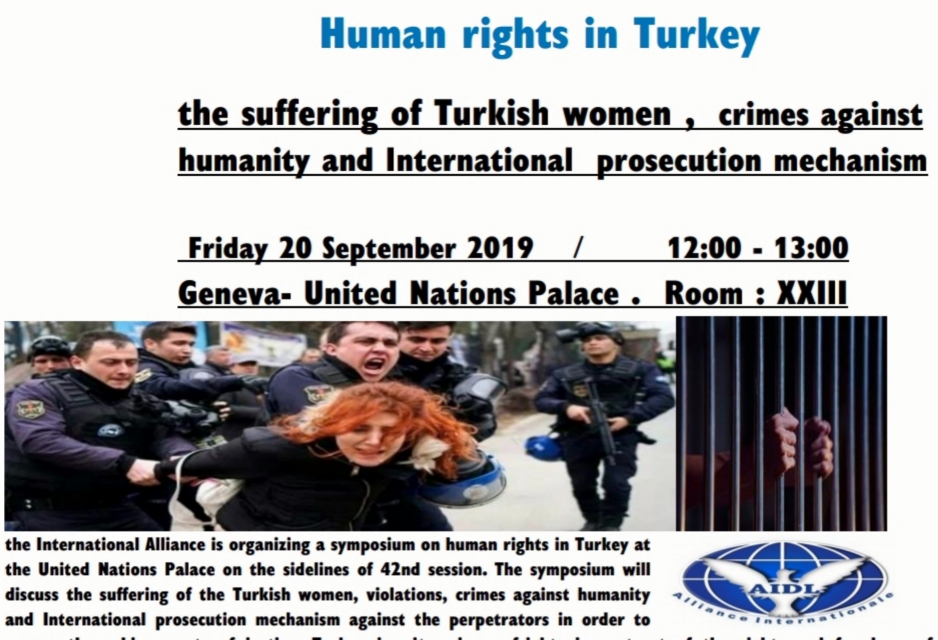 Speakers :
Mrs. Bedia Özgökçe ERTAN :
Deputy on the 26th and 27th legislatures. she was a member of the NATO Parliamentary Assembly (NATOPA) Turkish Group was elected co-mayor of Van Metropol for the HDP in the Local Elections of 31 March 2019.
Mrs. Leyla İMRET :
was elected mayor of Cizre on 2014. She was dismissed from her position by the government on 2015 after the siege of Cizre during the conflict , she has continued to speak out against human rights abuses in the region .
Mrs. Özen AYTAC :
is active in the outreach commission of the Kurdish women's movement Switzerland since 5 years .
Mrs. Taha Hakeema Mahmoud CHALO :
Her family was killed by Daesh in the massacre known as Kocho, she was taken hostage in this attack. She was separated from the men hostages and from women with children. She was brought with other young girls first to Mosul and then to Raqqa where she was sold as a sex slave to an Arab man. Then she was sold to a second man. Moderator :
Mrs. Orsola CASAGRANDE : She is a Journalist Italian, worked for over 25 years with the daily national paper Il Manifesto as Special Correspondent in various parts of the middle east (Iraq, Syria, Turkey, Iran. She is also author of the international chapter of the Report on Global Rights promoted by CGIL (Italian biggest trade union) .